How do I buy print copies of O Human Star?
You can buy personalized copies from me at my Bigcartel store, or nonpersonalized copies using the Blackbox buttons below!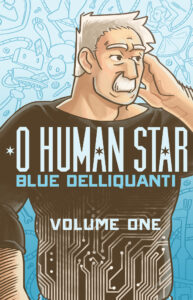 Buy O Human Star Volume 1 Softcover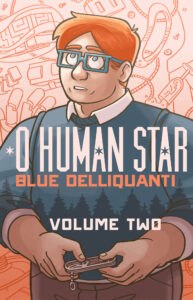 Buy O Human Star Volume 2 Softcover

What kind of comic is this?
I call O Human Star a science fiction family drama. It features a cast of queer-identified characters and it's got a healthy dose of romance in it, too.
Can my kid read this? Or to put it another way… I'm a kid. Can I read this?
That depends. O Human Star is aimed at mature readers because of adult themes and content. If you're sixteen or older, you'll probably be fine. If not, come back in a few years.
How adult is the adult content?
There won't be much that could be considered explicit. When it comes up, it will be accompanied by a post giving you the heads-up to not read that day's update while you're at work.
When do new pages of the comic go up?
The current update schedule is one page a week, on Mondays. You can follow update notifications on the RSS feed or on Blue's Twitter.
What about you, Blue? What's your story?
I'm a freelance illustrator and cartoonist. My comics have appeared in various anthologies, like Smut Peddler, The Sleep of Reason, and Beyond. I have also collaborated on nonfiction comics and my work has appeared on Medium.com. O Human Star is a personal project that I started for fun, and most of the income I derive from posting updates is through my ongoing Patreon campaign.
Do you have any advice about making comics?
Draw every day! Never stop learning how to be a better artist and writer. If you decide to go to art school, awesome. If not, that's okay, too – if you work hard, your work will always get better. And don't forget to let life happen to you, too. It can influence your comics in a lot of ways you wouldn't expect.